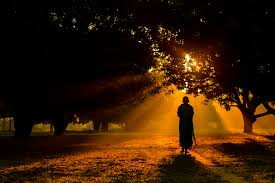 There's an ancient story where a layperson approached the Buddha and asked him about the greatest joys of living in the world.
When monks or serious meditators asked him this question, he would reply by talking about the fruits of meditation; mostly, inner freedom.
However, this was an everyday person, and so the Buddha told him the top four types of joy for a person who lives in the world.
The first three came down to outer freedom: having wealth, using wealth and being debtless.  These allow us to do what we want, when we want—whether that's eating a mango, watching a movie or writing poems in a redwood grove. Continue reading →