Currently Scheduled Events
1) Path of Sincerity Sangha – Insight Meditation & Buddhism
Dates: Tuesday evenings
Cost: generosity/donation
Commitment: no RSVP needed
Location: Virtual via Zoom:   https://zoom.us/j/959821971

Brief Summary:
This group is devoted to practicing Insight Meditation, a mindfulness-based style of Buddhist Meditation that aims to take us deeper into a life of generosity, mindfulness and wisdom. We aspire to build community, explore Buddhist philosophy in a down-to-earth way, and discover the place where our full humanity intersects with a rich spiritual life.
Click here for more info!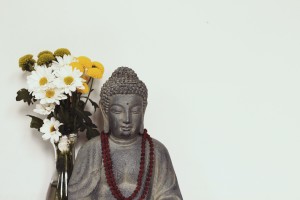 2) The End of Stress – A Daylong Insight Meditation Retreat
Dates: Sat, 5/30 from 10am-4:30pm
Cost: Donation
RSVP: Register via Eventbrite
Location: Virtual via Zoom

Brief Summary:
This daylong meditation retreat will present a rough overview of the Four Noble Truths — the core of Buddhist Philosophy — although, the focus will be less on theory, and more on actual practices & techniques to deeply understand & let go of stress (dukkha).
You will get to practice four meditative approaches to working with stress:
• Focus on peace
• Unraveling stress from the inside-out
• Attitude inquiry
• Compassionate attention
Click here for more info!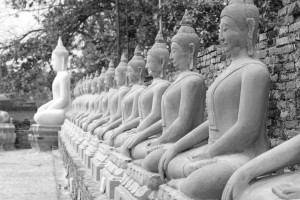 3) Morning Meditation
Dates: Every Morning – 8:15am-9:15am
Cost: free/donation
Commitment: no RSVP needed
Location: Virtual via Zoom:  https://zoom.us/j/370125244

Brief Summary:
Starting at 8:15am, we will begin with 2-5 minutes of dhamma reflection/reading, followed by silent meditation. A bell will ring at 9am, and then there will be an optional period of sharing reflections / intentions until 9:10 or 9:15am.  Feel free to pop in or out as works with your schedule.
On Sundays, we'll stick around for another hour of dhamma discussion & sharing.
As we will be in silence you are welcome to do whatever style or technique of meditation appeals to you, although the reflection will likely revolve around the Buddhist Insight Meditation tradition.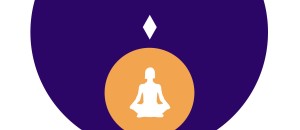 4) Awareness+Wisdom: An Eight Week Insight Meditation Course
Dates: Recently finished.  Next one likely in Autumn.
Cost: Generosity/Donation
Brief Summary:
The inspiration for this course was to distill the best of what I've learned in all my studies of meditation into a single, comprehensive program; the detailed description in the link will capture it much better, but here's the short version:
Whether you're a beginner or long-time meditator, you will leave this experientially-focused course with a deeper sense of the underlying principles, mechanics & context of Buddhist Insight Meditation and the human mind, and also how to skillfully grow and develop your practice, both in formal meditation and in your daily life.
Click here for more info!


Ongoing Meditation Teaching
Apart from the above offerings, I regularly teach meditation for The Yoga Space's 200 and 500hr Teacher Training Programs, a few classes a week at Nike, and periodically at both for-profit and non-profit organizations, as well as leading a new public workshop, daylong retreat or course in Portland every month or two.


Previously Taught Public Events
Single Day Workshops
Intro to Mindfulness Meditation
Buddhist Social Meditation Workshop
Intuition and Study as Skillful Means on the Buddhist Path
The Building Blocks of Insight Meditation
Touching Emptiness: The Heart of Buddhist Meditation
The Joy of Impermanence
Radical Relaxation – A Journey into Mindfulness
2019: The Year of Integrity
Yoga Body, Meditation Mind: Exploring Conscious Embodiment
Experiencing Selflessness: A Daylong Insight Meditation Retreat
Overcoming Pain w/ Mindfulness and Meditation
Multi-week Courses
When Meditation Meets your Life – A Journey into Mindfulness (4 weeks)
Awakening Joy – The Buddhist Path to Happiness (4 weeks)
The Essence of Insight Meditation (10 weeks)
Merging Love & Wisdom – The Heart of Buddhist Meditation (6 weeks)
Dhamma Everywhere Book Club – (8 Weeks)
One Hours Classes
I've led over a hundred classes in secular, yogic and buddhist environments exploring themes like opening the heart, relaxing the mind, working with anxiety, understanding the variety of mindfulness techniques, concentration, deconstructing anger, the nature of distraction, wisdom cultivation, buddhist shadow work and many more.
Here's the Completed 2019 Schedule for the Tuesday Night POS Sangha:
12/30 – The Four Foundations of Mindfulness (pt 3. on the Satipatthana Sutta)
12/16 – The Four Foundations of Mindfulness (pt 2. on the Satipatthana Sutta)
12/2 – The Four Foundations of Mindfulness (pt 1. on the Satipatthana Sutta)
11/18 – Gratitude & Opening to Life
11/4 – The What, Why and How of Equanimity (Parami #10)
10/21 – The What, Why and How of Goodwill & Kindness (Parami #9)
10/7 – The What, Why and How of Resolve & Determination (Parami #8)
9/23 – The What, Why and How of Truthfulness (Parami #7)
9/9 – The What, Why and How of Patience (Parami #6)
8/26 – The What, Why and How of Energy & Effort (Parami #5)
8/12 – The What, Why and How of Wisdom & Discernment (Parami #4)
7/29 – The What, Why and How of Renunciation (Parami #3)
7/15 – The What, Why and How of Ethical Conduct & Integrity (Parami #2)
7/01 – The What, Why and How of Generosity (Parami #1)
6/17 – Introducing an 11 Week Exploration of the Spiritual Perfections (Paramis)
6/03 – What Is Meditation? (this is a serious question!)
5/20 – Integrating Yoga & Buddhism
5/06 – The Experience of Awareness
4/22 – The Most Radical Teaching in Buddhism
4/08 – Turning Stupid Awareness into Wise Awareness
3/25 – Is Faith the New "F" Word?
3/11 – The Future Isn't Real and Rent Is Due on the First
2/25 – On Samadhi: The Difference Between Rock Climbing & Meditation
2/11 – The Buddhist Approach to Anger
1/28 – The Why of Meditation & Spiritual Practice