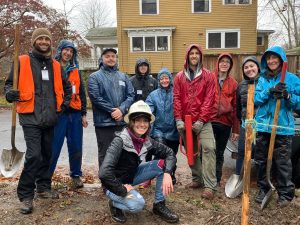 Brief Overview
Every month on a Saturday, we'll take a deep-dive as a local community, alternating months between a daylong meditation retreat and a "Sangha Service Day."  Below is the upcoming schedule
Oct 7 – Service Day @ Tideman Johnson Park Habitat Enhancement
Nov 11 – Daylong Meditation Retreat @ Heart of Wisdom Temple in NE Portland
Dec 9 – Service Day @ Friends of Trees in Happy Valley
Jan 20 – Daylong Meditation Retreat @ Heart of Wisdom Temple in NE Portland
To RSVP for the Oct 7th Service Day, please fill out the RSVP form with the city, though it would also be appreciated to email me, so I can know how big our group is!
Logistical Info for Next Service Day (October 7th)
RSVP: Via the Portland Parks & Rec website
Time: 9am to 12pm (lunch to follow!)
Location: Tideman Johnson City Park — SE 37th Ave & Tenino St, Portland 97202
For this service day, we'll join the Portland Parks & Rec (PPR) department for a habitat enhancement of a Portland city park.  Tasks may include invasive weed removal, litter pickup, and native planting.  Note we will be joining a much larger volunteer crew, organized by PPR.
When the formal service period ends at 12pm, our small group will gather in the park and have lunch together until 1pm or so (please bring a packed lunch!).  Of course, you are also welcome to leave at 12pm, or at whatever time you need to go.
Sangha Service Days Mission Statement
On the Sangha Service Days, we'll do a community service project with a local non-profit organization / wholesome cause.  There are two main purposes to the Sangha Service Days:
To put into action the Buddha's teaching on "sīla," aka virtuous action, and give back to the community with a spirit of generosity and loving-kindness.
To have an opportunity to gather together more informally, develop natural connections, and touch into how when the Buddha was asked if Spiritual Friendship was half of the path, he replied that it was actually the entire path.
*As a note, in Buddhism, "sangha" is considered one of the three jewels or pillars of the entire tradition — it loosely translates as "spiritual community."
Past Service Days
Aug 12, 2023 – The Lotus Herd, a Horse Therapy non-profit (see below for more info)