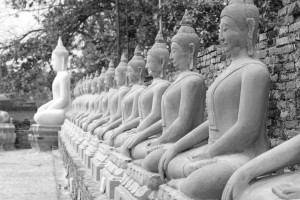 Daily Morning Meditation
Dates: Every Morning, 8 – 9am Pacific Time
Cost: Gift Economy / offered on donation
Commitment: no RSVP needed
Location: Virtual via Zoom:  https://zoom.us/j/370125244
Zoom Password: meditation
Brief Summary:
We gather in community 365 mornings a year for a short teaching, silent meditation, and discussion.  Usually, around 15 to 20 people join.  You are welcome to have your video on or off, and stay for as little or as long as you like.
As we meditate in silence, you are welcome to do whatever style or technique of meditation appeals to you, although the open talk generally draws from the Buddhist Insight Meditation tradition.
* Note that David generally leads on weekdays, and community members facilitate Sat/Sun *
Morning Flow (Monday to Friday):
8:00 – 8:10ish  — dharma talk (Fridays are Way-Seeking Mind Talks; see below)
8:10ish – 8:45am — silent meditation
8:45 – 9:00am — group discussion
Morning Flow (Saturday & Sunday)
8:00 – 8:55am — silent meditation
8:55 – 9:00am — "lightning round," sharing intentions for the day or one-sentence reflections
What Is a Way-Seeking Mind Talk?
At present, on Fridays, a community member will start us off with 10 to 15 minutes of speaking to the question, "How did I come to be here?" with "here" being to the dharma/spirituality/meditation/Buddhism/etc.  They can share any key events, experiences, learnings, or influences that have led them to where they find themselves today in their spiritual journey.
These talks foster a deeper sense of community, learning from each other, and harnessing the power of inspiration.
After the 30+ minute silent meditation, in the discussion period, people can share reflections on what the Way-Seeking Mind Talk elicited in them, or ask questions if the sharer is open to that.
I will start us off on July 21st, by taking 10 to 15 minutes to share about my spiritual journey.  If you'd like to sign up for a Friday, shoot me a message!