Welcome here! 
My name is David and you've stumbled onto my online hub of meditation and dhamma teachings.
As a brief overview, I'm rooted in the Theravada-Vipassana Buddhist tradition, though I've studied widely across a number of modalities and traditions (from Zen to Yoga to Psychotherapy to nearly three years on Vipassana retreats), and my aligning with Buddhism & meditation has little to do with belief or dogma, and everything to do with how deeply its transformed my life, as well as the lives of countless other individuals I've met over the years.
In other words, my primary interest is in walking (and sharing) a path that actually works.
In my offerings, I aspire to maintain the integrity of the original teachings, while also bringing them fully alive for modern practitioners — keeping it down-to-earth, full of heart, and continually pointing at the real possibility of awakening.
Thank you for being here!
Note: The Tuesday night Path of Sincerity Sangha, and the daily morning meditation will all be held virtually via Zoom during the quarantine.  All are welcome to attend!

Here's Five Articles To Start With:

1) Insight Meditation (AKA Vipassana): The What, Why & How
2) Four Guided Meditations to Get you Started

3) The Top Six Benefits I've Gotten from 10,000+ Hours of Mindfulness Meditation
4) Why & Where to Go on Meditation Retreat in Oregon, the United States & Asia
5) Ultimate Meditation Resource Guide: Books, Courses, Movies, Buddhism, Technology, etc.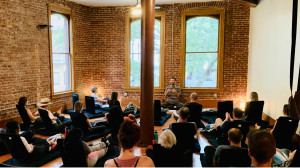 Live Events
While I'm based in Portland, Oregon, all "live" events during COVID are done via Zoom.  Here are some ongoing public offerings:
Weekly Buddhist meditation community group, with a talk, discussion and meditation (Tuesdays)
Daily morning meditation from 8-9am, with a short talk/reading, 40 minutes of silence and 15 minutes of group discussion.
Semi-regular Daylong Retreat and Courses
What Other People Are Saying
"David skillfully balances his love for meditative practices with a reverential playfulness that can appeal to all audiences. I first studied with him as part of The Yoga Space's 500-hour teacher training, later recruited him to lead mindfulness classes at Nike, and have since attended a few of his meditation workshops. In all of these settings, I've watched him tactfully navigate questions and feedback from skeptical first-timers to dedicated Buddhists. His deep understanding of meditation's lineage and its practical applications is unmatched and unpretentious."      J.B., president of the Mindfulness Community at Nike
—————-
"I took a four week course by David on meditation. I loved his warm and grounded welcome – and how he was both well organized and yet kept it simple. My favorite aspect was his ability to give really thoughtful and practical answers to questions from the group – drawing on his authentic personal experience of meditation as a path and yet listening to the needs of each student."      E.L., yoga instructor
—————-
"I love David's simple and powerful approach. He has figured out how to make meditation accessible for anyone where they are. Meditators of all levels, from first-timers to long-timers, will benefit from David's guidance into experiencing awareness. Over the course of six months of studying with David, I feel that my practice of meditation has taken on a new dimension of application every day. Thank you for sharing your gifts and passions David!"      C.A., mindset & wellness coach
—————-
"I worked with David both in a class context and in one-on-one sessions.  David's creativity, knowledge, insight and preparation were always exceptional.   He is adept using his extensive life experience to help him relate to others, and to teach and guide them.  He is also able to compassionately listen and understand others in the context of their own situation.  He has a gentle, accepting, encouraging way of pointing someone in a direction that allows them to make self-discoveries and personal growth.  He is also charismatic, personable and easy to be around."      L.G., pre-school teacher
—————-
"David's meditation sessions were paradigm-shifting and taught me the value of practicing awareness in everyday life. David helped me find the motivation and mental tool-set to dig deeper into my own experience."   J.E., software engineer

—————-
"Hi David, I realized that coming to your course was actually a big deal for me.  Being able to stay in the space of "awareness" and being "the watcher" the majority of time is new for me. I've been here before but was very much in a head space of needing to remain fairly isolated to maintain it. If I hadn't talked to you about my trouble reintegrating after my 10 day Vipassana retreat, in the first class, I'm not sure that I'd be having the experience of it now because I had so many doubts. That was also a bit depressing so it's nice to be out of that. Having the experience of the "choiceless awareness" meditation as you taught it gave me a taste of the possibility.  In thinking about it, this evening, that doubt that I carried just lifted and I didn't realize it until now.  There are some other practices that have certainly effected maintaining that space but I do believe that your class and chatting with you did quite a bit to open the door to more consistency.  Thank you very much!"      L.R., physical trainer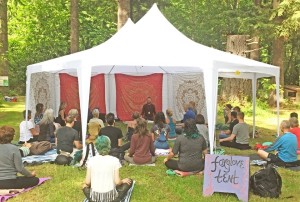 Offer Support
All my teachings, including live courses and 1-on-1s, are offered on donation.  I appreciate your support in making this possible!