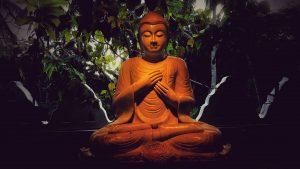 Being Love
A Six-Week Buddhist Meditation Course
When: Wednesdays, 7:00-9:00 pm PT, 11/8 to 12/13
Where: The Flander's House Community Room — 2926 NE Flanders St, Portland 97232
Registration: Registration will open in September
Cost: Gift Economy / Donation (see below)
————–
One Sentence Summary:
While you will leave this course with a better understanding of the Theravāda Buddhist perspective on loving-kindness (mettā), the overarching goal is to live from a deeper wellspring of love; or, more simply, to be love now.


Longer Summary:
Through guided meditations, brief lectures, discussion, and optional between-week homework, you will internalize:
A Buddhist vision of 

love

, including what exactly it is (and isn't!), why it's important, the four pillars of true 

love

, and how it applies equally to ourselves, romantic partners, friends, grocery clerks, and even our least favorite politicians!
How to balance 

love

 with wisdom, particularly ways to release ill-will and develop care when we're having a tough time with someone (especially ourselves!)
Several classic techniques and reflections used to develop 

love

.  We'll utilize the traditional 

loving

-kindness phrases, but also take on a spirit of play, experimenting with visualization, somatic methods, prayer-like contemplation, forgiveness practice, and the role of  "wise reflection."
The connection between 

loving

feelings, intentions & actions — and, using an understanding of that connection to create positive feedback loops of love in our relationships, work-life, inner life, and everything in between.
One of the real benefits of a course like this is the ongoing community aspect.  It's one thing to read a book on mettā, and it's entirely another thing to commit to six weeks of practice with a community, where we have a chance to dive in together, get feedback, lean on each other, and do the practice day-in-and-day-out.


A Personal Note:
In my own life, this course has been a decade in the making, and what you'll learn is a lot of what has helped me to be more kind & accepting towards myself, to be able to pivot out of apathetic/depressive states, and to find a greater tenderness, understanding and opening in my relationships.  Sometimes in Western Buddhism and/or meditation, we overly focus on the stillness & non-reactivity side and forget that developing the heart is a MAJOR part of practice!
I would love to invite you into this journey of love that's been cared for and passed down for over 2,600 years, and is as powerful now as it's ever been 🙂


Cost & Commitment:
As with nearly everything I do, I'm offering this course on the gift economy; aka on donation, as a practice of mutual giving and receiving!
As donation-based offerings are a bit foreign in our culture, I would love for you to read over this article on how I think about the financial part of donation-based courses.  I trust that whatever you donate will be the perfect amount!  No one will be turned away or judged for lack of funds!
Also, just as importantly, offered-on-donation doesn't mean "come when you feel like it" or "only participate halfway."  While of course life happens and you may have to miss a week, I'd request that you make a genuine commitment to showing up and doing the practices — that's the only real way to turn these teachings from a good idea into something you truly live and embody; or, put it simply, to be love now.
Feedback from Prior Participants of Being Love:

"David's course on loving-kindness helped me to not only identify the ways in which I needed to grow in this area, but it provided the tools to do the work of tending the heart. The world is kinder place as a result."    M.H.
"Being Love was a transformational course for me. It might have been that the practice allowed me to safely sink into loving awareness for myself that it was less painful to let go of holding onto grudges or lifestyle choices that I didn't realize weren't serving me or anyone else."    J.P.
"David's course was well thought-out and prepared, as he is a highly skilled and sweet teacher.  By the end of the course, my heart felt more open and more soft, and overall I've felt more at ease. David's dedication to the course was an act of love itself, as it was just beautiful to watch him share this work and spread his own light."   A.Y.
"Throughout the class sessions, I enjoyed David's lightness and good humor, and in that the many times he acknowledged how challenging this work is and so for us to be kind to ourselves in our learning and development."    L.N.
"This course really helped me learn how to direct love toward myself and move toward a more loving, inclusive and expansive way of being in the world."    J.H.
"I am deeply grateful for David's kind, knowledgeable, and approachable demeanor. It's so evident that he cares about other beings and their journey in spiritual growth and practice, and I am comforted to know and trust that he is a resource in our local community."    K.C.
"David's teachings are both profound and accessible. He brings wisdom, humor, and joy to the practices and I am deeply grateful for this course!"   A.H.