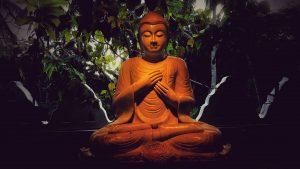 Being Love
A Six-Week Buddhist Meditation Course
When: Mondays, 7-9pm PDT, September 27th to Nov 1st
Where: The Flander's House Community Room — 2926 NE Flanders St, Portland 97232
Registration: Email me at David@pathofsincerity.com
Cost: donation/generosity (see below).  I'd suggest reading this article for thinking about donations.
Covid Policy: Participants are required to be fully vaccinated, and masks will also be required.  Group size will be capped much lower than capacity, but note that maintaining social distancing will be a bit questionable.  In the case of positive COVID tests or if the Delta situation worsens, we may need to move the course online.
————–
One Sentence Summary:
While you will leave this course with a better understanding of the Theravāda Buddhist perspective on loving-kindness (mettā), the overarching goal is to live from a deeper wellspring of love; or, more simply, to be love now.


Longer Summary:
Through guided meditations, brief lecture, discussion, and optional between-week homework, you will internalize:
A Buddhist vision of 

love

, including what exactly it is (and isn't!), why it's important, the four pillars of true 

love

, and how it applies equally to ourselves, romantic partners, friends, grocery clerks, and even our least favorite politicians!
How to balance 

love

 with wisdom, particularly ways to release ill-will and develop care when we're having a tough time with someone (especially ourselves!)
Several classic techniques and reflections used to develop 

love

.  We'll utilize the traditional 

loving

-kindness phrases, but also take on a spirit of play, experimenting with visualization, somatic methods, prayer-like contemplation, forgiveness practice, and the role of  "wise reflection."
The connection between 

loving

feelings, intentions & actions — and, using an understanding of that connection to create positive feedback loops of love in our relationships, work-life, inner life, and everything in between.
One of the real benefits of a course like this is the ongoing community aspect.  It's one thing to read a book on mettā, and it's entirely another thing to commit to six weeks of practice with a community, where we have a chance to dive in together, get feedback, lean on each other, and do the practice day-in-and-day-out.


A Personal Note:
In my own life, this course has been a decade in the making, and what you'll learn is a lot of what has helped me to be more kind & accepting towards myself, to be able to pivot out of apathetic/depressive states, and to find a greater tenderness, understanding and opening in my relationships.  Sometimes in Western Buddhism and/or meditation, we overly focus on the stillness & non-reactivity side and forget that developing the heart is a MAJOR part of practice!
I would love to invite you into this journey of love that's been cared for and passed down for over 2,600 years, and is as powerful now as it's ever been 🙂


Cost & Commitment:
As with nearly everything I do, I'm offering this course on the gift economy; aka on donation, as a practice of mutual giving and receiving!
As donation-based offerings are a bit foreign in our culture, I would love for you to read over this article on how I think about the financial part of donation-based courses.  I trust that whatever you donate will be the perfect amount!  No one will be turned away or judged for lack of funds!
Also, just as importantly, offered-on-donation doesn't mean "come when you feel like it" or "only participate halfway."  While of course life happens and you may have to miss a week, I'd request that you make a genuine commitment to showing up and doing the practices — that's the only real way to turn these teachings from a good idea into something you truly live and embody; or, put it simply, to be love now.
To register or for any questions, please email me via david@pathofsincerity.com