This resource guide is the fruit of 15 years of intensive dharma studies.  I tried to put the best of everything I've encountered into an accessible, progressive guide to help you deepen your own journey. It felt like an impossible task to make it readable, but with the table of contents, hopefully it will flow smooth enough!
Here's a few initial notes:
1) This guide will emphasize "depth" into a single tradition (Theravada-Vipassana Buddhist Meditation / mindfulness / insight meditation), but also "breadth," exploring how other resources/teachings can really help to expose blindspots, develop complementary skills, and take us much deeper.
2) Books & media are helpful, but actual direct experience is what makes the real changes – pay close attention to the resources to actually dive into meditation, such as guided meditations, courses and live opportunities.
3) I've direct linked to anything available free online, although basically all of these are also available as hardcopies for sale, and some as audiobooks.  While free is great, I personally prefer mediums that don't involve looking at a screen, so I'd generally recommend printing them, or buying the book / audiobook.
May this be of benefit to you!
The Quick & Fast Version – Top Recommendations
You're about to encounter an enormous guide that might seem overwhelming, so I thought I'd right away offer my top recommendations that get right to the point.  Feel free to only read this.
For beginners to Eastern Spirituality, try The Dalai Lama's The Art of Happiness.  If you are more intellectually inclined, go for Sam Harris' Waking Up: A Guide to Spirituality without Religion.  Inversely, if you are going through a tough time, try Pema Chodron's When Things Fall Apart.
If you already know you want to explore Buddhism or Meditation, skip #1 and go right to Gil Fronsdal's book, The Issue at Hand, which is a concise & excellent intro to Buddhism and meditation.  Also read my short article on Insight Meditation just for good measure!
Build on #2, and listen to Gil's free 6 week Insight Meditation Course (or if you got some $ and are committed to learning meditation, try this in-depth online meditation course).
Build on #3, and read my teacher's very short book, Don't Look Down on the Defilements, They Will Laugh At You.

Build on # 4, and listen to Gil's free 6 week intermediate-level Insight Meditation Course.
Broaden your practice by reading:

Bhikkhu Bodhi – The Noble Eightfold Path.  Short & straightforward, perhaps the best book I've read that explains the greater Buddhist framework.
Robert Augustus Masters – Spiritual Bypassing.  It important to learn how meditation can be used to avoid our wounding vs. genuinely heal, transform & grow.
Kristin Neff – Self-Compassion.  Also check out the meditations and exercises on her website.  Meditation without heart falls flat – important to find some way to bring it in.
Adyashanti – True Meditation.  Peppering our meditation with a little non-dual simplicity helps ground us in the essence of the practice.

Keep Practicing!

Try Insight Timer, get involved with a local community, go on a retreat, commit to practicing everyday, even if only five minutes!
Parooze the rest of this list at your leisure.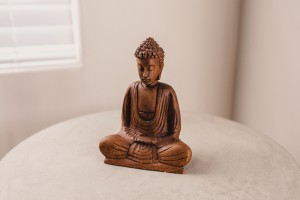 Studying Theravada-Vipassana Meditation