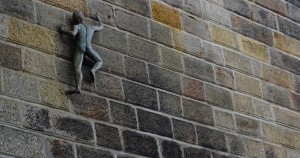 When we sit down, relax and bring our intention to present moment awareness, some days it's quite pleasant and effortless, but other days it's one brick wall after another.  There's three basic ways to handle this:
At times, it can be useful to actually stop meditating—if, say, we're just falling asleep in a sitting position, it might be more worth our while to take a nap instead.  However, if we just quit every time there's a brick wall, we don't learn anything, we don't develop, we don't realize our deeper sincerity.
Secondly, we can use sheer willpower to force ourselves to keep sitting and endure, pounding our way through the sit.  We could power through with the aid of a tool, a "meditative sledgehammer," like mindfulness of breathing, mantra, counting thoughts or whatever else.  We could also just psych ourselves into an attitude of intensity and determination.