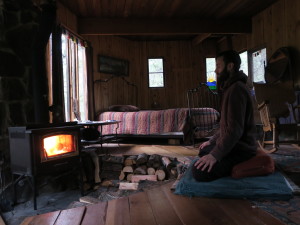 I've previously written an in-depth guide to meditation retreat — why do it, where to go, and what to look for in choosing one.  Today, I wanted to give an inside look at my recent retreat.
I spent three weeks by myself in a rustic cabin deep in the Cascade-Siskiyou Wilderness, devoted to the practice of Vipassana meditation.
On an outward level, here's what it looked like:
Woke up around 5 or 6am, and went to bed between 11pm and 12am.
Ate two meals a day – no snacks, caffeine or beverages (apart from water)
Did around 10 hours a day of sitting meditation, an hour of yoga, an of hour of mindful hiking, and an hour of dharma talks
Had two interactions with a human throughout the three weeks – each lasted about 5 minutes, and revolved around getting more water in the cabin.