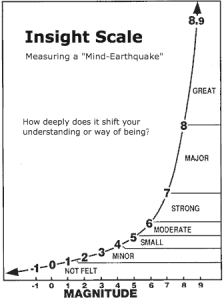 When we strip away all the fancy explanations, everyone knows what an insight is.  It also goes by the names epiphany, revelation, realization, paradigm-shift, deep understanding or awakening.  If we look closely, most people actually have "mini-insights" pretty regularly.
It's a moment where we have a deeper-than-thought realization that shifts our understanding or way of being.
I think of insights as being like a mind-earthquake, occurring on a 0 – 10 magnitude scale (like the Richter Scale).
The higher the magnitude, the deeper the shift in our understanding & way of being.
For example, a friend with poor eating habits once told me he had an insight about healthy eating.  However, a couple weeks after his insight, we chatted again, and he really hadn't made any tangible changes to his eating habits.