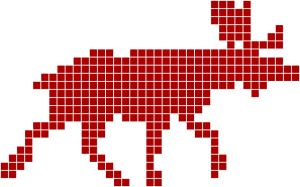 I've never been stuck in quick sand, but as a child I watched enough cartoons to know it's not exactly a pleasant experience.  You're literally stuck.
While you may never be strolling the dessert and fall into a pool of wet sinking sand, you just as much as myself and everyone else will regularly face inner quick sand—places where we get stuck.
Maybe it's a bout of anxiety or having to do a bunch of things you don't like.  Maybe it's low motivation or hearing some bad news.  So when you're stuck in your quick sand,
What to do?  What to do?
Imagine for a moment we pixelated your self-structure, like an old school television—not just one coherent picture, but 1,000 little colored pixels that make up the screen.
In your self-structure, some pixels are your good qualities, such as kindness or patience.  Some pixels are your "difficult" qualities, such as depression or self-judgement.