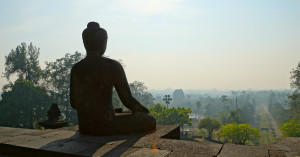 I practice and teach a style of Buddhist meditation called Vipassana (aka Insight Meditation).
Many people have heard of the transformational eight week course, Mindfulness-Based Stress Reduction (MBSR), which has helped make mindfulness meditation a household term.  What many people don't know is that it's mostly just a secularization of Vipassana meditation.
However, even though they initially seem to be the same thing, there is also a big difference between the two.
I sometimes joke that if the Buddha were a 21st century dharma teacher, he would describe Vipassana Meditation as Mindfulness-Based Wisdom Cultivation (MBWC).
The rest of this post will explore what is meant by MBWC, and will answer the following questions:
1) What is Vipassana meditation?
2) Why are we shifting our basic perceptions?
3) What are we shifting our basic perceptions towards?
4) How do we actually, tangibly, realistically, make this happen?
5) What is core difference between Secular Mindfulness and Vipassana Meditation?
6) What is the quickest, most efficient way to really learn Vipassana?

Continue reading →