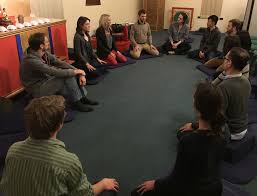 Intro to Buddhism & Meditation in Portland
When I first arrived in Portland, I spent countless hours both online and conversing with others trying to find the various Buddhist communities in town.  After some years of exploration, I've learned every single Buddhist group in Portland (I think!), and have organized them here on this page.
At the time of writing, I've personally visited about half of these groups.  However, I am not offering any specific endorsements.  The intention of this page is merely to state the options.  I will try my best to keep my comments factual and data-focused.
Although, I will say that the best way to find a group is always just to check a few of them out and get a feel for what seems to resonate.
A Few Notes to Keep in Mind
This article is up-to-date as of 09/2022; however, places are likely still switching around their virtual/local status or adding/subtracting days as part of the slow transition from the pandemic.  In turn, I'd recommend following the below links to verify the current schedules of various groups.  Also note that if something is offered as a hybrid local & online event, I just marked it as being in-person below.
While every center has its own flavor, some centers have multiple groups throughout the week or are led by different instructors, which may have a very different feel from each other.  It can be helpful to check out multiple groups at the same center!
You don't need to "join," "sign up," or go through any "initiation" process to go to any of these groups.  You just show up as you are and are free to never come again, or keep coming back as long as you like!
You also don't need to be a Buddhist.  In general, Buddhist communities tend to be very inclusive, and aren't interested in converting anyone.
Continue reading