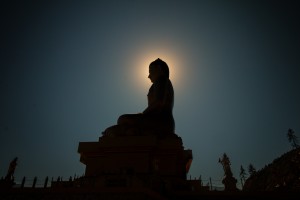 The Buddhist tradition uses a three-step model for the development of insight/wisdom.  While it could be applied to nearly anything, we're mostly interested in how it applies to the three meditative truths: inconstancy, not-self and dukkha.
Although, to bring it down to earth, imagine we really dislike cold weather.  Whenever it drops below zero, we automatically become tense, agitated and grumpy.
In other words, our experience is of "dukkha"—the pain of wanting things to be other than they are.
However, after walking through the three steps detailed below, we learn to be in frigidly cold weather without getting tense or resistant.  And, in turn, we actually feel a deep capacity to stay relaxed and engaged, not just during cold weather, but during just about all unpleasant life situations. Continue reading →