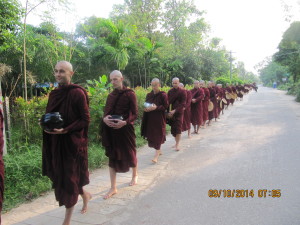 After a friend married his longtime, live-in girlfriend, I asked him, "you two have been together so long; now that you're married, does it feel any different, or is it just the same old dynamic?"
"It's definitely different," he said, "I guess it just feels so much more real."
Of course, there are many reasons why I went to Myanmar for nearly two years of intensive meditation, but rather than remain a layperson, I decided to take on the monk's robes, went out begging for my meals and vowed to keep a set of 227 rules ranging from not touching money to not eating after midday—why?  That's easy.  It made the whole thing so much more real.
It was a symbol to myself that I was really serious about this path, that it wasn't just another passing amusement.  It was making it a little more challenging for me to back out at the first sign of difficulty.  By walking around bald-headed in flowing, burgundy robes, it was sending a loud message to the world that I was absolutely committed to the spiritual life.
There's a lot of power in making our values, passions and commitments more real.
If you write, start a blog.  If you play music, go to an open mic.  If you enjoy speaking other languages, go to a meet-up group or even travel abroad, off the beaten path and into communities without English.  If you love someone dearly, put a ring on their finger and declare it to your community.  If you're crazy about meditation, put on some burgundy robes.
Eventually, I hit a point where I saw the fundamental realness I was going for had little to do with being a monk and everything to do with being my perfectly imperfect self wherever I was, no matter what I was doing—I promptly disrobed and returned to America.
Interestingly, having that experience of making one of my passions way more real—being crazy about meditation—it helped me tap into a deeper sense of who I was and what was really important in this life.  It now seems like everyday is a little more real than it used to be.
Realness is not a burden, it is a gateway to sincerity, I highly recommended it.