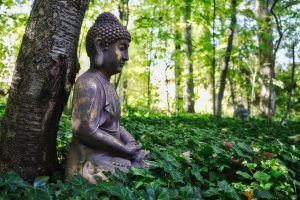 Date: Saturday, August 20th, from 10:30am to 2:30pm+
Location: Canby, Oregon (~30 minutes outside of Portland)
Cost: donation / gift economy
RSVP: email us (see below)
Feel free to shoot over any questions you may have!
Event Summary
Co-led by David Sudar & Asher Wallis, we'll embark on a day of dharma practice on a riverside horse ranch in Canby.  Partly inspired by the life & teachings of Thich Nhat Hanh, we'll practice his style of walking meditation down to the river, do sitting meditation in a shaded area, and offer a couple of short talks.  
We'll focus the day on experiencing peace in nature, and perhaps even more to the heart of it, finding peace no matter where we are or what we're doing through more deeply understanding the nature of mind.  The style of practice will emphasize a relaxed, joyful mindfulness in all postures.
The meditation portion of the day will go from 10:30am to 2:30pm, and then at 2:30 we will have a potluck lunch and time for informal socializing with each other.
Logistics
Anyone is welcome to attend!  The daylong will take place at a private residence, so please contact Asher or David if you'd like to attend, and we will then provide the address.  The whole day will be outdoors.
David – David@pathofsincerity.com
Asher – asher@liberationtechnologies.org
You are welcome to leave at 2:30pm or stick around for the potluck; though, of course, it would be great if you were able to join the potluck!  If you'd like to stay for the potluck, but it feels stressful to bring something, please don't worry about it and come anyways!!
The sitting meditation periods will be on a field of cedar chips, so please bring a camping chair if you'd like to sit chair-style, or conversely, please bring a blanket if you'd like to sit on the ground (we have some extra meditation cushions to put on your blanket, though encourage you to bring your own cushion if you have one).  The periods of sitting meditation will be about 40–45 minutes long.
There will likely be a number of people coming from Portland, so please let us know if you need a ride or would like to carpool.
Accessibility
The walking meditation to the river will be over some uneven terrain and through some mild overgrowth.  There will be a short stretch over some riverside rocks.  All of the walking will be slow and mindful.  It would be a good idea to bring walking shoes.  Please reach out to Asher or David if you have concerns about whether or not this will work for you.
Cost
Offered on the gift economy (aka, generosity or donation).  
Your presence is the biggest gift, though if you're able, monetary contributions are always appreciated.  Donations can be made in person, or electronically to Asher or David (if sending electronically, please note "Natural Peace," and we will split the donations).
Facilitator Bios
David is a former Buddhist monk, who completed an intensive 21-month Vipassana Meditation retreat in Myanmar with his core teacher, Sayadaw U Tejaniya. He currently works as a Buddhist & meditation teacher for the 10% Happier app, Pause Meditation, and the Path of Sincerity Sangha.
Asher is a long-time Buddhist practitioner, who has spent a big chunk of every year for the 15 years on silent meditation retreat. He is particularly interested in the Early Buddhist discourses (suttas). He works as a grief counselor in private practice and leads various Buddhist/meditation groups several evenings a week. Visit his website for more info.