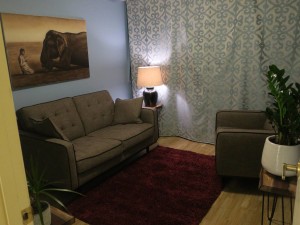 Logistics for Coaching
I see clients locally at my office at 1818 NE Irving Street in Portland, Oregon, 97232.  I also work with people around the world via Video Chat.  I typically work with people in minimum one month intervals.  See the following packages for what's included:


The Four Session Package (1 – 2 months)
Four 60 minute sessions, either weekly or every-other-week
A written plan summarizing your mindfulness aspirations, and some key ideas on how to move that direction
One 20-25 minute guided meditation on a topic of your choosing – recorded and sent to you electronically
Accountability on meditating minimum 20 minutes per day, minimum six times per week
Personalized homework on bringing mindfulness into your real life
Cost: $500
The Eight Session Package (2 – 4 months)
Same as above, except eight sessions, and three guided meditations on a topic of your choosing
Cost: $900
The Twelve Session Package (3 – 6 months)
Same as above, except twelve sessions, and five guided meditations on a topic of your choosing.
Cost $1,200
One-off sessions
Sometimes people are just looking for a single session to address a particular issue.  Perhaps it's preparing for a meditation retreat (or integrating afterwards), one burning question they might have, a spiritual crisis, developing a mindfulness program for an organization, or any number of other things.  If you're interested in this, shoot me an email and if I have any availability, I'd be happy to fit you in!