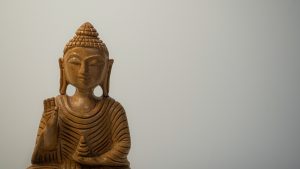 Time:  Sat, April 10 from 10am – 4:30pm
Location:  Zoom / virtual (link provided upon sign-up)
Register:  Please sign-up via the Eventbrite link.
Through meditation practice, brief dharma talks and discussion, our objective is to leave the day with a deeper intuitive access to mindfulness, kindness & wisdom.
This daylong retreat will drop into three essential pillars of Buddhist meditation:
Stabilizing mindfulness (samādhi)
Caring engagement (mettā)
Looking deeply (paññā)
Throughout the day, we will practice five different meditations, which will build upon each other. We'll begin with a foundation of relaxed yet focused awareness, then fuse it with kindness and an ability to move our practice off the cushion and into our lives. With that base established, we'll explore some of the key Buddhist wisdom teachings that directly lead to a release of grasping, aversion and, ultimately, suffering & stress.
We will primarily explore this "essential dharma" on the experiential level, allowing it to be something we live on increasingly more intuitive & embodied levels. The takeaway from this is a life of deeper peace & connectedness.  While all experience levels are welcome, people with prior knowledge/practice of meditation or related practices will likely get the most out of the retreat.
There will be a lunch break from 1:00pm – 1:45pm Pacific Time. You are welcome to come to only the morning session and sign off at lunch; however, please try to arrive before 10:00am, in order to start the day as a group. No new arrivals after the break.
Both the morning and afternoon will have two 40 minute periods of sitting meditation, a little stretching, and some lecture. In the morning, there will also be a period of walking meditation (or more sitting), and in the afternoon, there will be more time for Q&A and discussion.
The Buddhist tradition has run entirely on the "gift economy" for 2,600 years. In turn, these teaching are offered entirely on a donation basis, as a gift from my heart, without expectation of return. However, I encourage you to think of that not as "free," but as an opportunity to keep turning the cycle of "giving," whatever that looks like!
If you're curious more about how to relate to donation-based events, and "what's the right amount to give," I'd recommend reading this article.