About Me
Welcome here!
When I got on this journey, I couldn't focus due to intense ADHD, was constantly slipping in and out of apathy & depression, had little-to-no somatic or emotional awareness, and, as icing on the cake, my entire life was guided by a sense of shame and worthlessness.
After all these years of meditation, counseling and being a self-growth junkie, I've significantly improved my quality of life not by completely getting rid of those things, but by learning how experience them with great mindfulness, curiosity and love.  It hasn't always been the case, but these days I feel deeply glad to be alive, and am inspired to share the path that's blessed me so much.

Professional Bio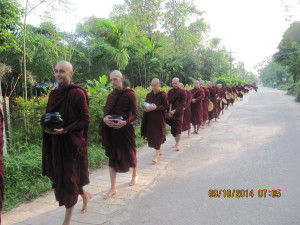 A former Theravadan Buddhist monk, David Sudar is passionate about practicing & offering the dharma in a way that's earthy, heartful and rooted in the real possibility of awakening. He currently works in Portland, Oregon as a mindfulness coach & meditation teacher – he teaches at Nike, Yoga Teacher Training programs, Buddhist groups, and leads workshops at a variety of venues.
David completed an intensive 21 month Vipassana meditation retreat in Myanmar with his core teacher, Sayadaw U Tejaniya, and continues to spend 1-2 months a year on silent retreat. He also draws upon his studies of Zen Buddhism, Classical Yoga, Somatic Psychotherapy, real life relationships, and over four years spent across 25+ countries.
Here's some links that tell more of the story:
  —   Full Training & Retreat CV
  —   My Major Influences (and a Reading List)
  —   My Life Philosophy in One Sentence
If you're curious how coaching with me could help you step deeper into your journey, click here to learn more!